Sharing dreams with top companies in each industrial field
Since our establishment in 1963, Mikuni-Color has been committed to the development of pigment dispersion technology to create our own unique microparticulation, dispersion, and stabilization technology that has the potential to eliminate disadvantages by enhancing the advantage of pigment.
Pigments have been used in a variety of different fields, including printing ink and paint for a long time, and now their application is expanding into the digital equipment field. Through utilization of the microparticulation, dispersion, and stabilization technology that Mikuni-Color has perfected, we find a business opportunity in the digital equipment field and even in the industrial fields not related to pigment, in addition to, proposals of pigments in the field where the use of dyes have been dominant,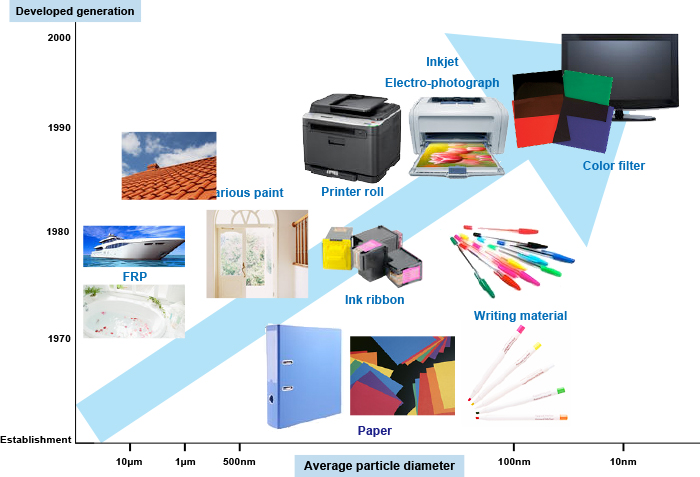 R & D, and microparticulation, dispersion, and stabilization technology to address customer needs
Unique feature of research and development in Mikuni-Color is enhancement of synergy with universities and raw material manufacturers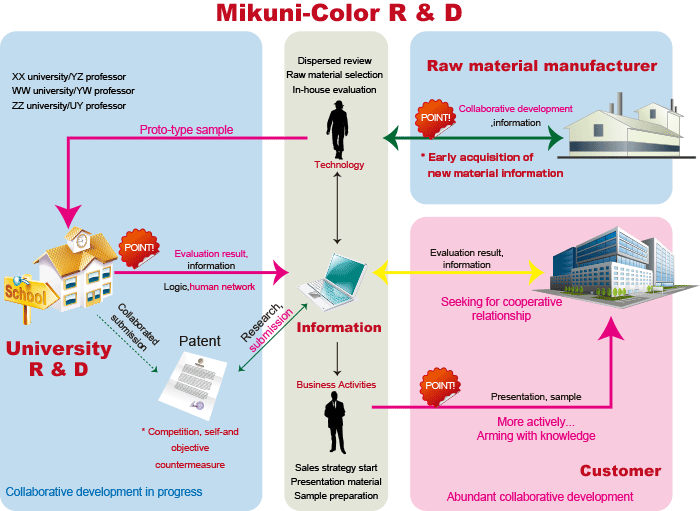 No need to mention in-house Mikuni-Color total power in domestic and overseas areas, the power is acquired through aggressive communication and collaboration with universities, such as the University of Tokyo, and raw material manufacturers through R&D. The value chain is constructed through the synergetic effect to seek the yet-to-notice needs of clients for development of next generation technology and for merchants.
Strong will for future expands from Japan to the world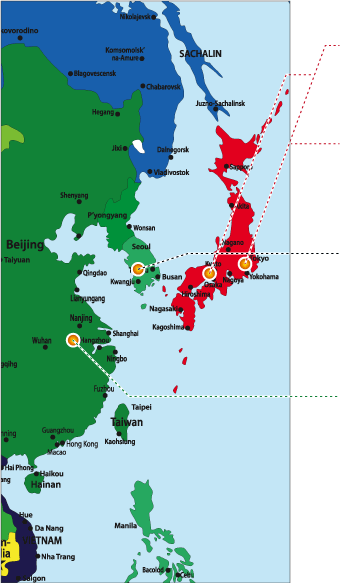 Mikuni-Color Ltd.
Head quarter: Himeji City, Hyogo
Prefecture
Sales office: Toshima-ku, Tokyo

Mikuni-Color Technical laboratory University of Tokyo Research Center for Advanced Science and Technology
Meguro-ku, Tokyo

NanotechMikuni
Pyeongtaek-si, Gyeonggi-do, Rep. of KOREA

Changshu Mikuni Chemical Co.,Ltd., Shanghai Branch
Shanghai, China

Changshu Mikuni Chemical Co.,Ltd.
Changshu Economic Development Zone, Jiangsu Province, China

Mikuni Color U.S.A. Inc.
West Sacrament, USA
Barriers between Japan and the world are disappearing due to globalization of markets and information. Mikuni-Color will propel global deployment with the world in sight, not only in the home ground market of Japan but with base points in China and Korea.
Mikuni-Color will develop high-performance dispersion liquid that fulfills the reliance and expectations of clients in future in order to contribute to future industries in Japan and overseas.