Technical department builds future color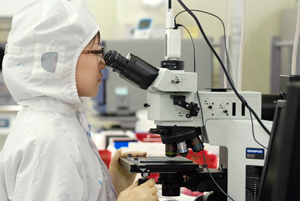 The technical laboratory is responsible for technical development at Mikuni-Color. The technical laboratory consists of the group responsible for resolving the issues of clients form the technical aspect in each dedicated field of color filters, inkjet printers, stationery, and paint, and the development group challenging the technology in the new next generation without limitation of the frames. The development group engages in research and development to further advance and develop the technology of microparticulation, dispersion, and stabilization, which has already been established by the technical department of Mikuni-Color.
[Skill of Mikuni-Color] proudly represented by the core department of development. Challenge to eternal potential of yet to see pigment dispersion liquid.
This is the future picture of the technical department of Mikuni-Color.